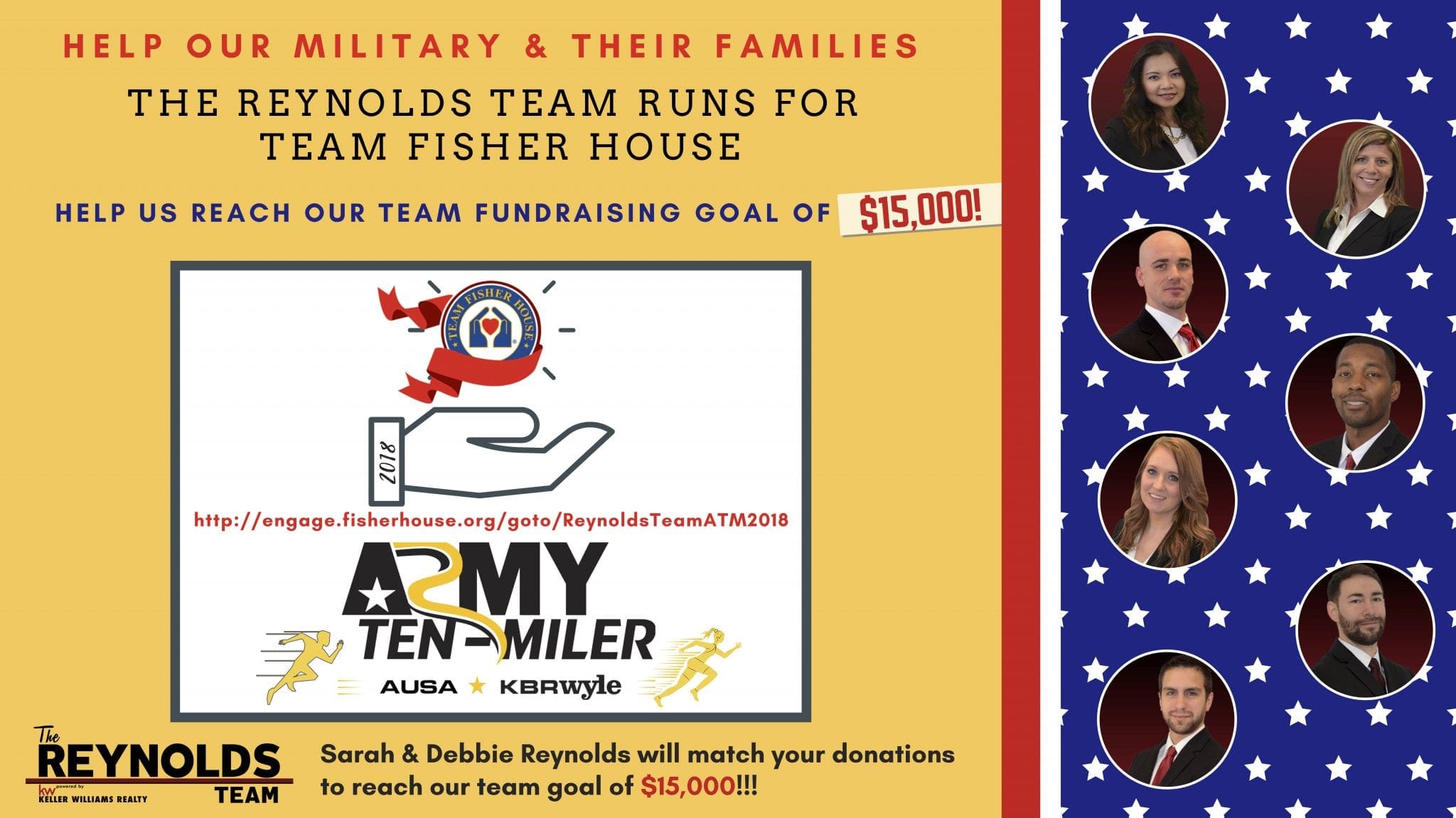 HELP OUR MILITARY & THEIR FAMILIES! The Reynolds Team has partnered with Team Fisher House again (our Team's Exclusive Fundraising Charity) for the 34th Army Ten-Miler Race on October 7th, 2018. Our running crew of 7 are honored to run for the Army Ten-Miler Race in D.C. and Raise Funds for The Fisher House Foundation. Fisher House creates a Home Away From Home for our Military and their families while they are receiving medical treatment. Each Reynolds Team runner has a personal goal to raise $500 before race day. Sarah, Debbie, and The Reynolds Team will match donations to reach our Team GOAL of $15,000!!! WOW!
So please help us reach our team goal and any amount you donate will be greatly appreciated! Read this moving story below about Senior Airman Heather Carter was looking forward to a long military career when disaster struck. Injured in a freak accident, Heather's left leg was badly shattered, and her life was changed forever.
[vr_youtube url="https://youtu.be/SfGzrhWcDHY" width="800″ height="680″ autoplay="yes"]
In her words: "I had been such an extrovert; I loved sports and loved life. Then the accident and my life changed overnight, and so did I. The chronic pain forced me to isolate. I became a hermit. I was hooked on meds. Depression became rampant. And yes, I thought heavily about suicide."
After 14 grueling surgeries over four years, Heather and her doctors made the tough decision to amputate her leg. Her mom, Vicky Carter, quit her job to be at her daughter's side and took on the role of caretaker and advocate during Heather's rehabilitation process. They stayed at Fisher House for more than a year.
Describing her time at Fisher House, Vicky said "In your darkest hours, when you think you have nowhere to turn, Fisher House offers a glimmer of hope. It was like a hand reaching down and pulling you up. You knew it was going to be okay."
You can help military and veterans families feel that glimmer of hope when they need it most, at a time of a medical crisis. Watch the moving video below, and watch how family, friends and Fisher House supported Air Force veteran, Heather Carter.
With Gratitude,
Sarah & Debbie Reynolds
The Reynolds Team | 703-297-4251 | RTRSells.com
Donate with confidence! CLICK HERE
Fisher House has received a 4-star rating from Charity Navigator 14 years in a row and an A+ rating from CharityWatch/American Institute of Philanthropy.