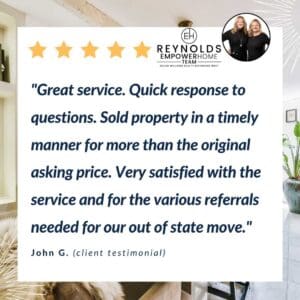 Getting our clients' homes sold FAST and for TOP DOLLAR—that's our specialty at Reynolds EmpowerHome Team, but that's not the only thing we're good at. We also maintain constant communication with our clients, ensuring they're informed every step of the way. Read this review by one of our clients to see how we went above and beyond for the sale of his home, getting him more than his asking price!
Who do you know considering buying or selling a home you could refer to us? We can help them sell faster & for top dollar! Selling a home can be stressful, especially when your home sits on the market. We sell our listings 3 times fast and, on average, for $30,500 more than when you work with another team by leveraging our database of OVER 15,179 qualified buyers in our Buyers in Waiting database!
Did you know that only 48% of homes that went on the market last year sold the first time with the first agent they hired? Most sellers last year had to call a 2nd or 3rd agent to get the job done, or even worse, not sell at all. The agent you hire the first time matters! Reynolds EmpowerHome Team sells 98% of our listings the first time, so when you hire us, your home is more likely to sell fast & for top dollar! To find out what we can do for you, Text or Call us at 804-655-0651!
Your Home Sold for 100% of the Asking Price or We Will Pay You the Difference!*
Your Price is Our Promise. Your Home SOLD 100% of the Asking Price or We Will Pay You the Difference! Call us at 804-655-0651 or visit us HERE.